As countries around the world continue to open up after a year of restrictions, many business owners are looking for ways to expand their reach. Italy is one of Europe's most attractive destinations for businesses looking to break into new markets. With its rich cultural history and economic stability, Italy is an ideal market for business expansion. It is the world's fifth-largest exporter of goods and services, and the third-largest economy in the European Union. Taking your business to Italy can open up new opportunities and help you reach a bigger customer base. Here are just a few of the benefits that expanding to Italy can offer:
Access to Markets
Expanding into Italy will give you access to a much larger market than you may have had before. You'll be able to take advantage of the large population of people living in urban areas, as well as those living in rural parts of the country. Additionally, being part of the European Union means that you can also access markets in other EU countries without having to worry about additional taxes or tariffs.
Business Environment
The Italian government has taken steps to make it easier for foreign businesses to operate within its borders by reducing bureaucracy and streamlining regulations. This has created an environment that is more conducive for businesses looking to expand their operations in Italy. Additionally, with its highly skilled workforce and excellent infrastructure, there are plenty of resources available for businesses looking to succeed in this market.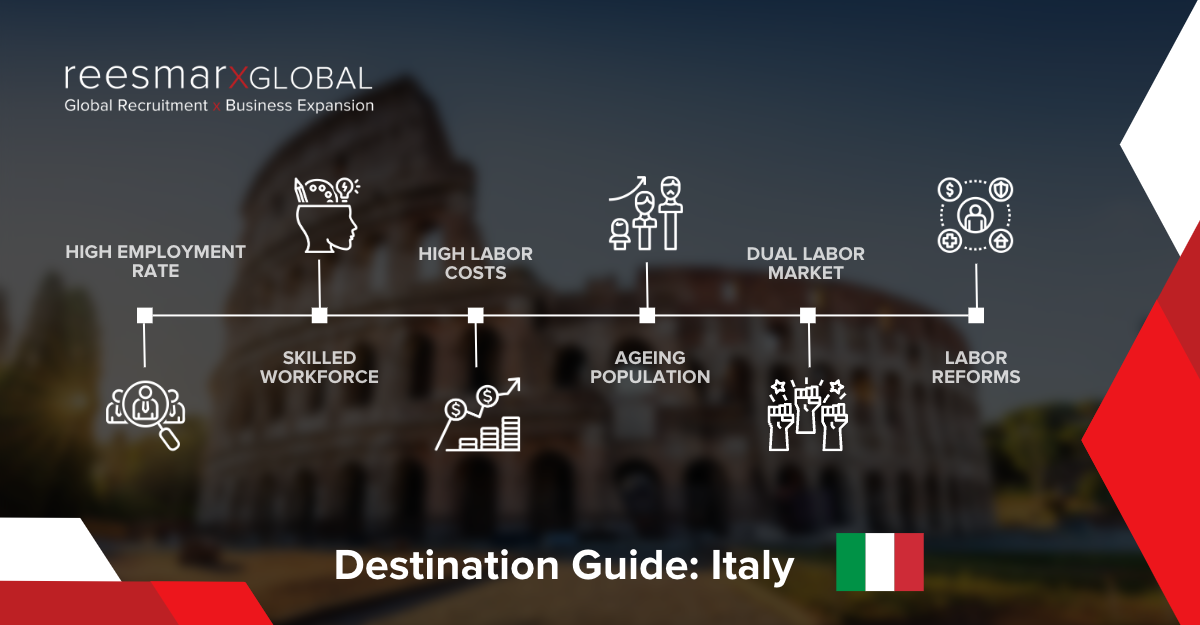 Favorable Tax Climate
Italy's tax system offers some significant benefits for businesses looking to expand into this market. For example, corporate income tax rates are relatively low compared with elsewhere in Europe, which makes it easier for businesses operating within this country's borders to stay profitable. Additionally, there are several incentives offered by Italian authorities for companies that invest in research and development activities or create jobs within certain regions of the country.
Taking advantage of these opportunities can help your business gain access to new markets and customers while also helping you stay competitive in today's global economy. If you're wanting to learn more detail about how Italy could be the perfect location for your business expansion, download our Destination Guide: Italy below.
Download the Destination Guide