The pace of global business in 2023 has been a tale of two quarters. Q1 saw a cautious start to the year, with companies wary of the economic climate and holding back on critical decisions. Yet, as we moved into Q2, there was a discernible shift. Firms cast off their trepidation, and decision-making processes accelerated. Here at reesmarx.com, and in general, Global firms experienced this uptick firsthand as our business experienced a growth spurt, particularly regarding the regions and roles we have placed.
The first half of 2023 (1H 2023) marked an interesting time in the global business landscape. The period saw significant changes in industry growth, hiring patterns, and economic projections compared to the same timeframe in 2022 (1H 2022). We want to take you on a journey through significant events and statistics to grasp the overarching picture.
Unfolding the Story of Industry Sectors
During 1H 2023, businesses were understandably apprehensive, given the preceding period's dynamics. However, the second quarter saw an uptick in decision-making, signaling a rebound of confidence in the corporate world.
By taking a closer look at the performance of various industry sectors, we can glean some insights: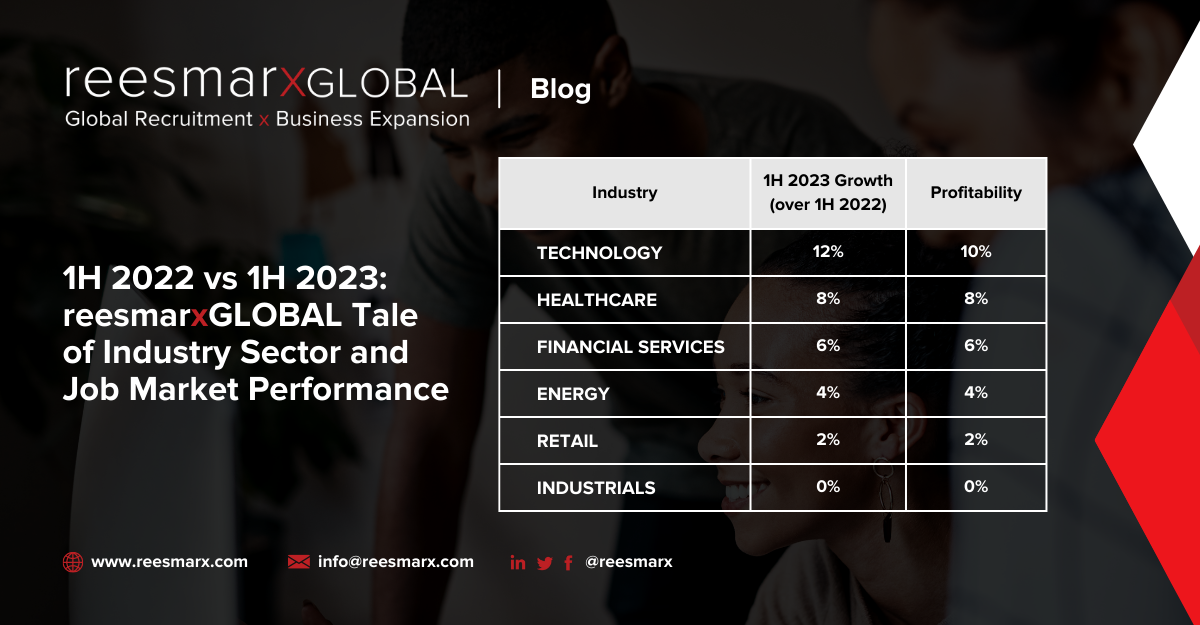 The technology sector maintained its lead in the race, posting a 12% growth in 1H 2023. Demand for cloud computing, software, and hardware drove its Internal Rate of Return (IRR) and profitability to 15% and 10%, respectively.
The healthcare industry was hot on technology's heels, with an 8% growth fueled by increasing demand for healthcare services and rising prescription drug prices. This led to an IRR of 12% and an 8% profitability.
Financial services experienced slower growth at 6%, impacted by rising interest rates and weaker loan demand. Nevertheless, it managed to secure an IRR and profitability of 10% and 6%, respectively.
The energy sector witnessed a slowdown, with a growth of just 4%. Falling oil prices and weaker demand for electricity contributed to its decreased performance. Its IRR and profitability stood at 8% and 4%, respectively.
The retail industry faced a decline with a mere 2% growth. This downturn resulted from rising costs, supply chain disruptions, and weaker demand. Its IRR and profitability took a hit, reaching just 6% and 2%.
The industrials sector remained stagnant, with zero growth. It grappled with rising costs and a weaker demand for industrial goods, resulting in an IRR and profitability of 4% and 0%.
Overall, the financial performance of major industry sectors in the first half of 2023 has been mixed. However, some sectors have outperformed others, and these sectors are likely to continue to do well in the second half of the year.
In terms of jobs, hiring, and employability, the sectors that are performing well are also the sectors that are hiring the most. For example, the technology sector added an estimated 1 million jobs in the first half of 2023, while the healthcare sector added an estimated 500,000 jobs. These sectors are also seeing strong worker demand, driving up wages.
On the other hand, the sectors that are performing poorly are also the sectors that are hiring the least. For example, the energy sector shed an estimated 200,000 jobs in the first half of 2023, while the retail industry shed an estimated 100,000 jobs. These sectors also see weak worker demand, driving down wages.
Overall, the job market is mixed in the first half of 2023. However, the sectors that are performing well are also the sectors that are hiring the most. This means that workers skilled in the in-demand fields will likely have good job prospects in the second half of the year.
Global Job Market Movements: The reesmarxGLOBAL perspective
On the hiring front, reesmarxGLOBAL had an eventful 1H 2023. Over the first half of 2023, our Global placements have been remarkably diverse, spanning multiple sectors and regions. From Sales Directors in Germany and Finland to a Customer Success Manager in Singapore, our global reach has never been more apparent. In Europe, particularly Germany, demand was strong for both sales and HR roles, reflecting companies' needs to drive revenues and manage their expanding workforces. In the APAC region, the roles were more mixed, with placements ranging from senior sales engineers in Japan to service delivery engineers in the Philippines. Meanwhile, the US market consistently demanded high-level roles, particularly in sales and marketing.
The firm's activities highlight the regions experiencing growth and the roles gaining prominence. It also underscores the globalized nature of today's job market, with firms sourcing talent across borders to drive their operations and growth strategies.
Compared to Q1 and Q2 of 2022, reesmarxGLOBAL has identified notable trends in the 2023 global business world. An increase in hiring in the technology sector, particularly in roles focused on digital marketing, software engineering, and tech support, mirrors the ever-growing emphasis on digital transformation. The rise in legal and finance roles signifies companies' focus on governance and economic resilience in a volatile market.
Looking forward, we anticipate that these trends will continue into H2 2023. However, businesses must remain proactive and well-prepared for the evolving marketplace dynamics. Expansion plans must be in motion well in advance; the common notion of 'six months is enough' could be a pitfall. The complex logistics encompassing notice periods, interview timelines, and sourcing timelines demand thorough planning. Moreover, choosing the right geographic location for business success is crucial and should not be rushed.
Regarding regions of growth, the data from H1 2023 suggests an optimistic picture for several global and regional locations. Germany, with a significant number of placements, especially in sales and HR roles, remains a promising landscape. The United States continues to be a hub of opportunities, particularly for sales and marketing positions. The rise in roles in APAC indicates its growing prominence in the global business scene. As remote work becomes more normalized, 'location' takes on a new meaning, and companies are increasingly open to hiring the best talent, irrespective of geography.
We have observed an increased emphasis on technology-based roles on the role front, reflecting the accelerating digital shift in business practices. Sales roles also remain a consistent area of growth, which is not surprising, given their direct impact on a company's bottom line. Finally, the rise in HR and legal roles indicate the growing focus on workforce management, compliance, and risk mitigation in a rapidly changing business environment.
In conclusion, H1 2023 has been a period of resilience and resurgence. Despite a cautious start, the global business world has picked up momentum, and we at reesmarxGLOBAL have been at the forefront of this change. We anticipate the rest of the year to continue on this growth trajectory. Businesses need to remain proactive, forward-thinking, and flexible, and we stand ready to assist them in navigating their recruitment needs in this dynamic landscape.
Moving into the second half of 2023, businesses need to strategize promptly. Expansion plans should be set in motion without delay, even if a 6-month timeline may appear sufficient. Notice periods, interview timelines, sourcing timelines, and selecting an optimal region for business success could consume more time than anticipated.
Ultimately, the 1H 2023 has demonstrated that no industry sector or business can rest on its laurels in an ever-changing global market. Understanding industry growth, hiring trends, and future projections is critical to staying ahead of the curve. As the year's second half unfolds, we will undoubtedly see more shifts in the landscape. How well we adapt and respond will shape the economic tale of 2023.
At reesmarxGLOBAL, we embrace the new era of AI-enabled marketing recruitment. We believe in the power of technology to make talent acquisition more accurate, efficient, and candidate-centric. As we continue to innovate, we are excited about AI's possibilities for the recruitment industry. The future of marketing recruitment is here, and AI drives it.